Following the footsteps of BSP, dalit Muslims are uniting at a fast pace. Reservations for dalit Muslims are a hot topic for discussion in Uttar Pradesh, Bihar, Jharkhand, Assam, Bengal, Delhi and all over India. According to dalit intellectuals, retrogression of Dalit Muslims is because of their own people. This retrogression started soon after Independence and is continuing till is very day. Muslims who are at a much higher platform from the very beginning are passing down their status from generations to generations leaving dalit Muslims oblivious to their rights. Islam does not discriminate between people but Muslims do. Muslims with higher status do not allow dalit Muslims to come forward or improve their working or living status. Even dalit Muslims in India know that Islam does not discriminate between the statuses of the people.
This was proved on Aug 8, 2007 in Andhra Pradesh Vidhan Sabha by Mazliz- e- Ithehadul Muslemin. He along with 5 Muslim members joined BJP to openly oppose 4%reservation given to dalit Muslims.
After independence of India, Aakliyati Tahaffuz committee (Dalit Rights and Protection committee) was formed with Sardar Vallabhbhai Patel as its chairman. Muslims members of the committee were Maulana Abdul Kalam Azad, Maulana Habibur Rahman, Begum Ezaz Rasool, Husain Bhai Lalji and Tajmool Husain. Committee was responsible for fundamntal rights and reservation of minorities, tribal and excluded areas. During decision on reservation for minorities it was suggested by Sardar Vallabhbhai Patel and Dr. Ambedhkar that even Muslims include dalits in the same fashion that Hindu do and changing ones caste does not improve his social and financial status. Therefore even Muslims dalits should be provided with reservation. This suggestion was opposed by 5 Muslim members of the committee saying Muslims do not need reservation on the basis of their religion. Dr. Ambedhkar was not in favor of this statement. He very well knew the ulterior motive of the members of the committee who were opposing the reservation. He knew that Muslim members of the committee didn't want reservation for dalit Muslims thinking that dalit would improve their social and financial status and would start interfering with politics.
Whereas from 1935 to 1950 all Dalit belong to any religion were provided with reservations. In Jan 26, 1950 when constitution of India came into force, members of Akliyati Tahaffuz committee said that an order is passed by Dr. Rajendra Prasad, president of India stating that only Hindu dalits will be provided with reservations even though it is clearly stated in Act 341 that all scheduled castes are to be provided with reservation. There is freedom of religion in India but members of Akliyati Tahaffuz committee instilled in the minds of Muslims that they should maintain distance from Hindu dalits who had converted to Islam.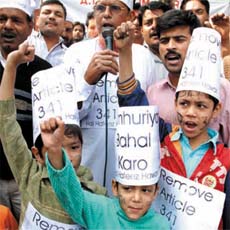 Tara Singh struggled to extend the reservation to Sikh dalits and he was successful in 1956. Buddhists were also given reservations and this work was accomplished by V. P. Singh in 1990. Following their footsteps even dalit Muslims have formed Pasmanda Front which is working to include dalit Muslims in scheduled caste. This was opposed by Shahbuddin and I. Ahmed of Muslim league saying that (dalit Muslims should not be provided with reservation) all Muslims must be given reservation, which according to the constitution was not possible as India is a secular country. When Christians were fighting for their reservation, all Christians belonging to different churches came together and settled down on a same opinion and then they together voiced their opinion. On Sept 17, 1990 all Christian including dalit Christians got together in Rajgaht and stood up for their rights.
Labour minister Mr. Oscar Fernandez along with Mrs. Sonia Gandhi and Mr. Manmohan Singh had a discussion with religious leader of Christian and dalit Christian regarding their reservations. They told the dalit Christians that one can neither be given reservation on the basis of their religion nor be denied reservations on the basis of religion. On the contrary neither any Muslim leaders commented or gave their opinion regarding reservations nor did any Muslim organization tried to unite all Muslims to settle down on an opinion.
Recently, seven muslim organizations wrote to prime minister requesting him to deport Taslima Nasrin out of the country but not one organization wrote about reservation rights of dalit muslims.
Muslim league or Muslim majliz didn't think about the weaker section of the Muslim committee. These political parties tried to earn their vote in the name of religion or by instilling fear of communal parties in the minds of dalit Muslims thus, limiting the involvement of dalit Muslims. These parties feared that giving reservations to dalit Muslims would boost their social and financial status resulting in failure of agenda of the parties and dominations of the dalits in the politics as dalits Muslims are more than 85% of the total Muslim populations residing in India. This difference in Muslims relating to their status is not new issue. In 1946 Abdullah Qayum and Atikurrahman Mansuri Aarabi of Momin party had said that muslim league is party of rich muslims and Pakistan would have no place for dalit muslims. This point was explained by Abdullah Qayum to dalit Muslims and stopping dalit Muslims by migrating to Pakistan. Later, Jinnah had said that if dalit Muslims would have supported Muslim league then Pakistan would have extended till Delhi. That year Momin party had won the elections. Even after partition, 25 crore Muslims in India are dominated by just 25 Muslim aristocrats and these aristocrats are discriminating and humiliating other Muslims just in the name of religion.
Where the conditions of dalits belonging to other religions are improving day by day, condition of Muslim dalits is just getting worse. These atrocities done against dalit Muslims is continuing even today, so they have decided to voice against these atrocities own their own. They now do not want the dictatorship of 25 Muslim aristocrats.
Dalit Muslims of India are thankful to MLAs for voicing against the 4% reservations given to dalit Muslims and helping them to rising from the state of dormancy.